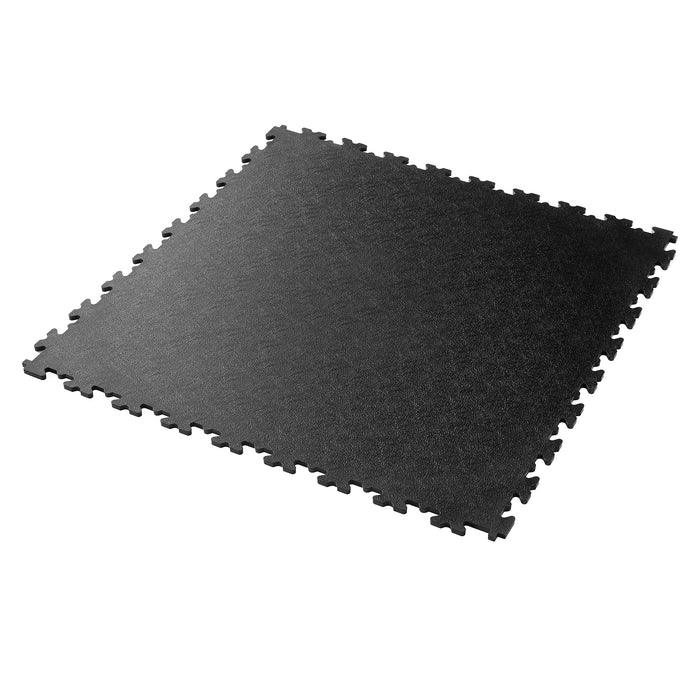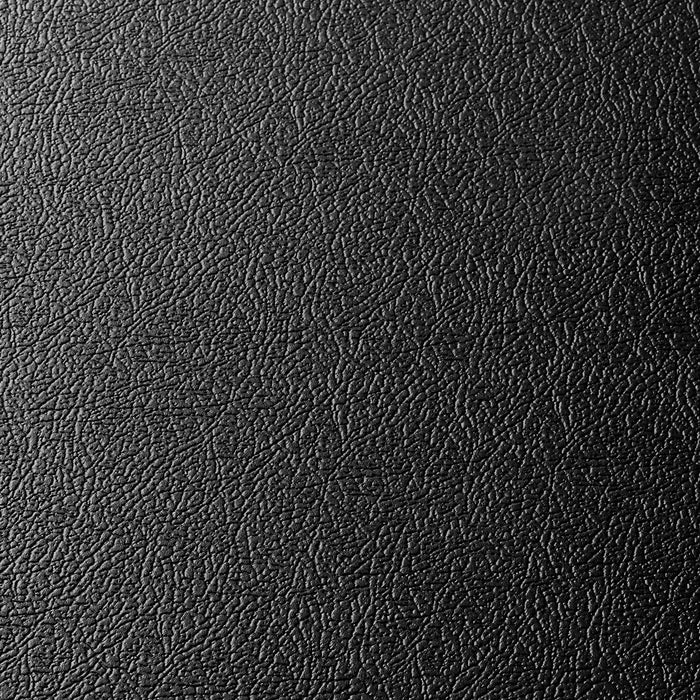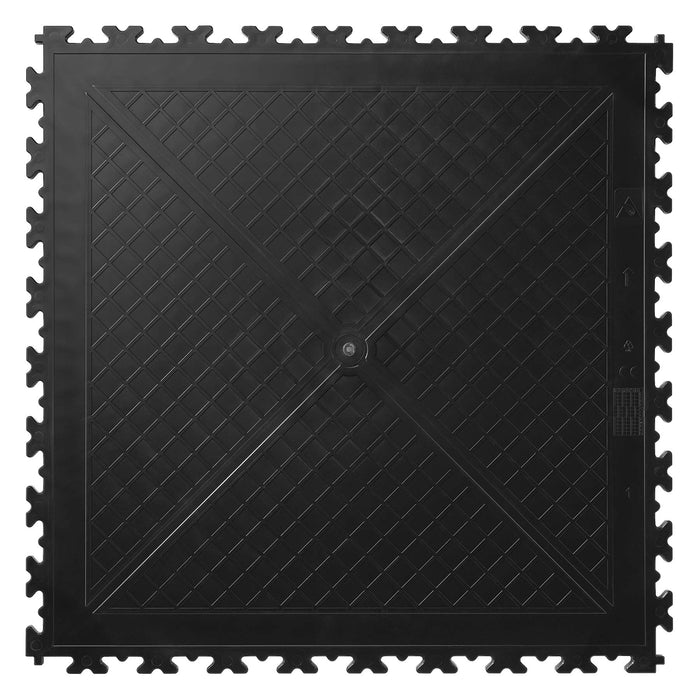 X Joint - Black 7mm Tile (Price Per M²)
Transform your garage or under-used home space, using Garage Floor Tile Company's brand new X Joint tile. Cover your garage with this black tile or if you're feeling creative you could mix colours, opt for our chequered bundles or finish with coloured ramps.  The new X style interlocking design allows for easy installation, with minimum preparation and no requirement for adhesives.  Comfortable underfoot; the textured surface is anti-slip, so it's a perfect choice for garages, gyms, or other rooms in the home where comfort and safety are essential.  Manufactured by us in the U.K. from 100% PVC.  Easy to clean and maintain. Curious on how to install these tiles? Here's our installation guide.
The X Joint tile is 497mm x 497mm which means four tiles cover 0.98m2 (not a perfect square metre). Please consider this before placing your order; we recommend that you order 5-8% more than your area's square meterage to account for this as well as any miscuts.
Tile Calculator
Calculated by ([width] x [length]) x 5%
You will need to purchase: x X Joint - Black 7mm Tile (Price Per M²)
Delivery Information
Your order will arrive at your home within 3-5 working days. Due to our demanding production schedule we can not always guarantee that this product is available. If your order is not available we will do our best to manufacture it within 3-5 days and keep you informed.
Please click here to enquire about our installation services.
GFTC Recycling Scheme
We know caring for the environment is equally important to our customers as it is to us. Get in touch when your GFTC tiles reach the end of their service life, and we'lll arrange to buy-back or take-back your floor tiles and recycle them. Learn More.
Important Information
We recommend that you read the following information before purchasing. Click the button below to view the information.
Do not attempt to use these tiles outdoors. If areas of your floor are exposed to direct sunlight or fluctuating temperatures adhesive may be required. Call us if you are not sure about your application.
For orders over 15m² your tiles will be shipped on a pallet. If access to your property is restricted (narrow lane, gravel driveway etc.) please let us know so that we can advise the transport company.
It is possible that certain rubber tyres and wheels may stain the tile (and many other types of flooring). This is a result of a chemical reaction that occurs between the anti-oxidant that is used in some rubbers and the plasticizer used in vinyl. The stain/reaction is brown in colour so is less visible in certain colours of tile (dark grey, graphite and black).